Travel Insurance for Bali Holidays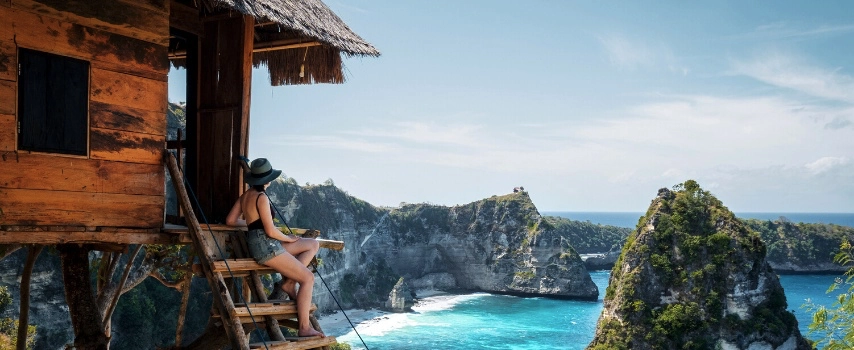 Get holiday insurance for Bali and Indonesia's surrounding islands
Australian travellers love Bali – and for good reason. From stunning temples and striking beaches to Ubud's much-loved Monkey Forest and relaxing yoga retreats, the Indonesian island has something incredible for almost all holidaymakers.
If you're planning a trip to Indonesia, it's important to consider purchasing travel insurance for Bali before you leave home. The right travel insurance can help protect you financially should the unthinkable happen – such as having your mobile phone snatched from your hands by a passing moped rider or being struck down with a bout of Bali belly – so you're not left with expensive bills to pay.
We want you to enjoy your holiday to Bali for all the right reasons, so keep reading to learn more about the importance of travel insurance for Bali trips.
Ready to get a quote? You can select our best travel insurance for your Bali trip online now.
Skip ahead to read:
Do I need travel insurance for Bali?
Nothing will ruin your blissful Balinese escape faster than something going wrong. If the unexpected happens, holiday insurance for Bali could provide the protection you want and the support you need.
The right travel insurance policy can not only help provide cover for travel incidents such as lost or stolen luggage, travel delays, missed connections, cancellation costs and more, it can also provide much needed expert emergency assistance and financial support for overseas emergency medical expenses.
Not convinced? The Australian Government says comprehensive travel insurance is essential for international travel – and this includes holidays to nearby countries such as Indonesia.
To discover if our travel insurance is best for your trip to Bali, compare our plans here.
What is Cover-More's best travel insurance for Bali holidays?
With over 30 years' experience protecting Australian travellers visiting the Indonesian island of Bali, we know how to help protect you and your Balinese holiday.
The best Bali travel insurance policy is the one that best suits your needs. We offer three tiers of international travel insurance that can cover an overseas holiday in Bali – all you need to do is find the right one for you.
Our three Cover-More international plans:

Basic
If you're on a budget and looking for cheap travel insurance for Bali that provides essential cover, consider this plan.

It includes unlimited~ overseas emergency medical expenses cover, luggage cover, and personal liability should something go wrong while you're in Bali, as well as other essential benefits such as providing cover for 80+ sporting activities.

This plan is only available on Single Trip policies, so if you're looking for base-level holiday insurance for Bali for a one-off trip, consider this.

Comprehensive
If you're an Australian looking for Bali travel insurance that provides all the essentials of our Basic plan plus much more, consider whether this plan may suit your needs.

Beyond unlimited~ overseas emergency medical expenses and higher levels of luggage cover, this plan includes benefits many travellers want such as travel delay, rental vehicle insurance excess, hijacking, disability, and accidental death, plus our additional Cancellation Extensions (which includes cover for an act of terrorism) if you choose to include cancellation cover in your policy for an additional premium.

This plan is available on both Single Trip and Annual Multi-Trip policies.

Comprehensive+
If the best travel insurance for your Bali trip is a policy with all the bells and whistles, consider whether our most comprehensive plan may be for you.

It contains all the benefits of our Comprehensive Plan and more, plus some higher coverage amounts for your Bali holiday.

You can buy this plan on both Single Trip and Annual Multi-Trip policies.

Want to compare our Cover-More International plans before you jet off to Bali? Visit our compare plans page or get a free online quote now.
Does Cover-More travel insurance cover moped or motorcycle riding in Bali?
One of the most popular ways to get around Bali is by hopping on a moped or motorcycle. Why? Travelling this way across the Indonesian island can be fun, efficient, and budget-friendly.
If you plan to scoot around Bali on a moped or motorcycle, it's important to consider including adequate cover in your travel insurance policy.
Our international travel insurance plans don't automatically cover moped or motorcycle riding – but you can include our Motorcycle/Moped Riding Cover in your policy on all plans if you meet the cover criteria for an additional premium.
We provide two levels of cover for riding moped or motorcycles during your Bali holiday:
Motorcycle/Moped Riding Cover: for engine capacity 250cc or less
Motorcycle/Moped Riding+ Cover: engine capacity unlimited (conditions apply)
Both levels of our Motorcycle/Moped Riding Cover can provide cover for you if you plan on driving or being a passenger, and you must include this optional cover in your policy for cover to apply.
For more information on our moped cover and how it may be suitable for your trip to Bali, visit our Motorcycle/Moped Riding Cover page for more details. This includes several terms, conditions and exclusions that apply to our Motorcycle/Moped Riding Cover, which you must be aware of before purchasing our travel insurance. For full details on our conditions of coverage, see the PDS.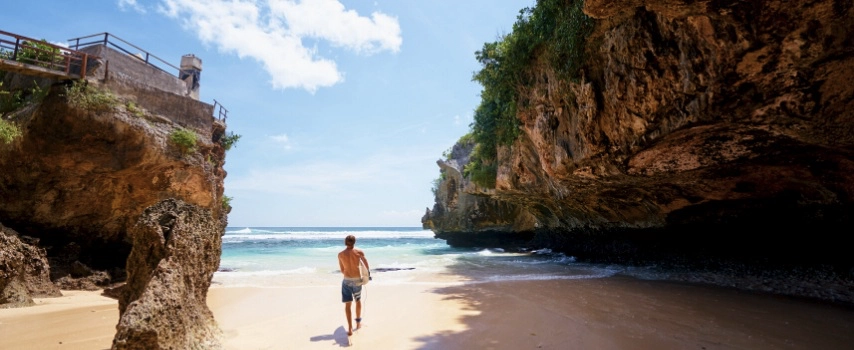 Does Cover-More travel insurance provide cover for sports and activities in Bali?
If you're not planning on spending all your days in Bali snoozing under a beach umbrella, we can help.
All our travel insurance plans automatically provide cover for 80+ adventure and sporting activities.
If you buy a Cover-More policy for Bali, we'll provide you with cover for:
snorkelling
jet skiing
scuba diving (under 30 metres) if you're with a diving school or qualified instructor
stand up paddle boarding
bungee jumping
kayaking
parasailing (over water)
golfing
hiking
surfing
…and many, many more! See here for the full list of all 80+ automatically included activities.
Can't find your favourite activity listed? For more extreme or adventurous activities, you may wish to include one of our two levels of Adventure Activities Cover in your policy. For details on what activities are covered by our Adventure Activities Cover and Adventure+ Activities Cover, please see the PDS.

Note: no cover is available if you are racing or competing in a professional capacity.
Ready to protect your adventure-filled trip to Bali with travel insurance? Get a quote online now.
Does Cover-More travel insurance provide cover for terrorism?
Unfortunately, terrorist attacks can – and do – occur.
The Australian Government recommends you exercise a high degree of caution in Indonesia because of the threat of terrorist attacks, so it is important to consider this when researching the best travel insurance for your Bali trip.
It's also important to pay attention to Bali travel alerts from your travel insurance provider before and during your trip should a terrorism incident occur in Indonesia.
All our Cover-More travel insurance plans provide cover for emergency overseas medical expenses and additional expenses if you are a victim of a terrorist attack.
If you are a Cover-More customer travelling on a Comprehensive or Comprehensive+ policy that includes cancellation cover, we can also provide financial support should you need to cancel your Bali holiday because of an act of terrorism.
For full details on how our Cover-More travel insurance can provide cover for acts of terrorism, please read the PDS.
Are there any active travel alerts for Bali?
Historically, important travel alerts have been issued for Bali because of acts of terrorism and volcanic events. Today, Bali travel alerts can be issued – or updated – at any time.
If you plan to travel to Indonesia and are thinking about buying a Cover-More travel insurance policy to protect your holiday, it's important to stay up to date with our Bali travel alerts and claims advice.
Our Travel Alerts section houses all travel advice that may affect your travel plans or policy coverage. Please read the relevant Bali travel alerts prior to and during travel.
While you're in Indonesia, it may also be helpful to monitor relevant media outlets and government websites for information on changes to local travel conditions that may affect your trip.
Concerned about Bali travel alerts? You can speak to our team on 1300 72 88 22 during Australian business hours.
If you are directly affected by an incident while you're in Bali and need help, call our 24/7 Emergency Assistance team on +612 8907 5619.
How do I avoid getting ill in Bali?
Bali is home to delicious food and restaurants, and we want your memories of the local Balinese cuisine to be a trip highlight – not a lowlight.
Unfortunately, Bali belly (like travellers' diarrhoea), is a relatively common travel sickness for Australians who visit Indonesia.
To help prevent Bali belly ruining your holiday, here's what you need to know before you go: How to avoid Bali belly
Want more helpful advice for your upcoming trip to Bali, Indonesia?
We recommend you also talk to your GP or travel doctor before travelling to Bali or other Indonesian islands for information on what vaccinations are required or recommended. This will help limit your risk of suffering from avoidable health issues so you can focus on what matters – having fun.
Can I cancel my Cover-More travel insurance?
If you purchase Cover-More travel insurance for your trip to Bali and decide it's no longer the best travel insurance policy for you, that's OK.
All our Cover-More customers have access to a 21-day cooling-off period from the day of purchase. If you cancel your policy during this timeframe, you are entitled to a full refund of the premium you paid, provided you have not made a claim and have not departed on your journey.
For more information on the cooling-off period, call us on 1300 72 88 22.
Want us to protect your holiday to Indonesia?
Find our best travel insurance for your Bali trip today.
Material on this website is provided for informational purposes only. It is general information and discussion about medicine, health and related subjects may not apply to you as an individual and is not a substitute for your own doctor's medical care or advice. The words and other content provided on this website, and in any linked materials, are not intended and should not be construed as medical advice. If the reader or any other person has a medical concern, they should consult with an appropriately licensed physician or other health care worker. Nothing contained on the website is intended to establish a physician-patient relationship, to replace the services of a trained physician or health care professional, or otherwise to be a substitute for professional medical advice, diagnosis, or treatment. The views and opinions expressed on this website have no relation to those of any academic, hospital, practice or other institution with which the authors are affiliated. They do not necessarily reflect the opinions of Cover-More Insurance Services Pty Ltd. Never disregard medical advice or delay seeking medical care because of something you have read on or accessed through this website. If you think you may have a medical emergency, call your doctor or emergency services immediately.
~ Cover will not exceed 12 months from onset of the illness, condition, or injury.