Snow Travel Insurance Cover
Protect your snow trip with ski travel insurance cover
It doesn't matter if you're a snowboarder or a skier, you'll know nothing compares to the feeling of conquering the slopes. But crashing out on the mountain and injuring yourself? That's enough to ruin the joy of a perfect run – even more so when the mishap comes with a tremendous medical bill.
At Cover-More, we offer snow travel insurance cover to help protect your winter holiday. Our Snow Sports Cover can be added to any of our travel insurance plans for an additional premium to help keep you safe on the mountains should the unexpected occur.
Want more information on snow activities and trips? Check out our Winter Sports FAQs, as well as our essential guide for ski holidays and the best ski destinations for Aussies.
Or, if you're ready to buy, you can get a quote online now.
Skip to read:
Whether you're planning a ski trip to Japan, a snowboarding adventure in New Zealand, or some snowmobiling fun in Canada, snow travel insurance cover helps provide you with coverage for winter sports activities you want to undertake on your snow trip.
Because being at the snow and participating in winter sports activities often increases the risk of injuries or incidents, you'll need to ensure you upgrade or amend your travel insurance policy to include snow activities like skiing and snowboarding for cover to be provided for those activities.
Depending on the travel insurance company, it might be called ski insurance, ski travel insurance, or travel insurance for snow sports – but no matter what the name, you should consider insurance to help protect you against unforeseen costs should you have a mishap on the slopes and need medical assistance.
When you're on the slopes overseas, even a minor accident can completely ruin your holiday and leave you with high medical costs. Thanks to the rugged terrain and often isolated locations of ski fields around the world, it's an extremely costly exercise to airlift someone off the slopes and take them to the nearest hospital for medical assistance.
So, if you're not prepared to pay outrageous sums of money for any unexpected medical assistance cost, we highly recommend you consider ski travel insurance cover for your upcoming snow trip.
Snow-related injuries don't just happen to beginners, either. All skill levels should consider our ski insurance cover – called Snow Sports Cover – before they hit the slopes.
Our Cover-More customer Clara discovered the importance of insurance when her son was snowboarding on Mammoth Mountain in eastern California. He fell and broke his wrist, resulting in costly American medical expenses.
Clara's total claim for her son's broken wrist was more than $2,590, but because she protected her family with ski travel insurance cover, we paid the bill and her family wasn't left out of pocket.
"Cover-More was efficient and prompt in paying the bills (which are notoriously high in the USA!). I will choose Cover-More again for travel insurance!" - Clara, Cover-More customer
Travel insurance cover for snow sports is important to consider having whether you're skiing in Chile, taking advantage of a ski package at a resort in Switzerland, or headed to Queenstown for a long weekend break. Get a quote online now.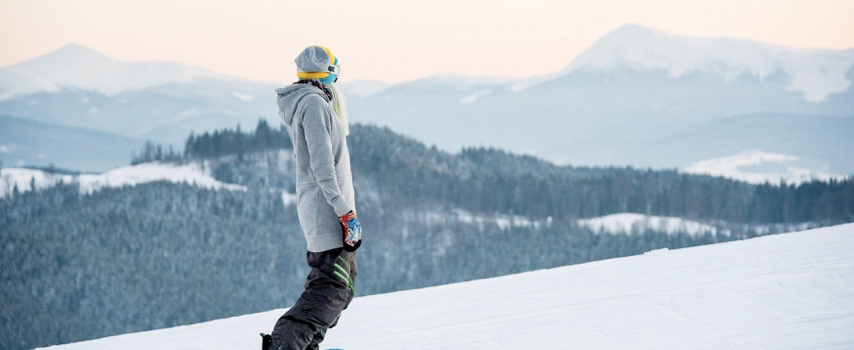 If you're a snow sports enthusiast, you'll be delighted to know we have a number of ski insurance cover options, whether you're enrolling in your first ever ski school, dusting off your trusted snowboard, or heading off-piste with a guide.
To get snow travel insurance cover with us, simply choose the travel insurance plan that suits you, and then add our Snow Sports Cover to your policy before you purchase. The types of plans we offer include:
International: perfect for an overseas ski holiday. Choose from a Comprehensive+, Comprehensive or Basic plan, depending on the level of coverage you want for your entire overseas trip.
Domestic: great for protecting your winter escape to Australian ski resorts. Choose from a Comprehensive+, Comprehensive or Basic plan, depending on the level of coverage you want and your budget.
Inbound Plan: only available to non-Australian residents travelling to Australia who need snow travel insurance cover because they're visiting a snow field on their trip Down Under.
For more details on each plan, you can compare our travel insurance plans here.
To obtain cover for snow skiing, snowboarding, and snowmobiling while travelling, we have two options available for you to include in your policy:
You must pay an additional premium for either level of snow travel insurance cover when including it in any of our Cover-More plans.
Please note: if you do not have Snow Sports Cover included in your policy, any claims for expenses arising from injuries or accidents that happen when participating in snow sports are not covered.
Want more details on the two levels of Snow Sports Cover we offer? Read on to find out.
Yes, we offer two types of snow travel insurance cover so you can choose the cover that suits you best.
Snow Sports: this provides cover for on-piste snow skiing, snowboarding, snowmobiling, and cross-country skiing. This cover option is most suitable for travellers spending their time at ski resorts, as off-piste or backcountry skiing is not covered.
Snow Sports+: this upgrade provides cover for the above activities as well as off-piste snow skiing/boarding and guided heli-skiing/boarding tours. This is suitable for more advanced skiers or those planning more adventurous activities.
It's important to understand that even if you pay the additional premium for our Snow Sports Cover or Snow Sports+ Cover, you will only have cover provided if you meet the conditions outlined in the PDS. For example, you must not be participating in a professional capacity, must not be racing, must always follow local advice and warnings and more.
Please also make sure you're familiar with your ski resort's guidelines and only take on ski runs that are within your ability.
Ready to buy? Get a quote online now.
We always want to ease the pain in your neck – not cause it.
All our International Plans include $unlimited~ overseas medical expenses. If you include our Snow Sports Cover in your international travel insurance policy, we will provide cover for winter sports-related injuries sustained on the snow fields (provided you were complying with the conditions set out in our PDS at the time of the incident).
Our Domestic plans do not include cover for medical, hospital, ambulance or dental expenses, as while you're in Australia this is covered by Medicare and your private health insurance. However, if you added Snow Sports Cover or Snow Sports+ Cover to your policy and sustained an injury while participating in a covered winter sporting activity, on domestic plans, there is still cover for other expenses such as additional transport and accommodation expenses.
Not sure if you need overseas medical coverage? One Cover-More customer needed our help when they suffered a fracture whilst snowboarding in Japan. This person required surgery, and once they were fit to fly, we organised a business class upgrade and non-medical escort to return to Australia. Their claim estimate came to $25,000, which makes it a perfect example of why you should consider your winter sports holiday is protected.
However, in some ways this customer came out somewhat unscathed. We have also had to cover costly emergency evacuation, ambulance, and hospital expenses for other customers and their travel companions, which have cost hundreds of thousands of dollars.
See our dedicated FAQs for winter sports travel insurance cover to learn more.
We understand how valuable snow sports equipment can be, which is why our luggage and travel documents insurance benefit includes cover for these items, with the option to increase the limit for individual items for an additional premium.
The level of cover depends on the travel insurance plan you purchase – you can compare plans here.
Please refer to the PDS for full policy conditions to understand what we can and can't cover. For example, we cannot cover gear that is stolen while left unattended, or sporting equipment whilst it's in use.
Our luggage and travel documents cover only applies to personal gear or equipment owned by you. It does not cover ski or snowboard equipment that you have hired.
See our dedicated FAQs for winter sports travel insurance cover to learn more.
Thinking about buying our travel insurance with Snow Sports Cover for your next trip to the snow? It's worth noting we also provide additional benefits, including:
24/7 emergency medical and travel assistance
Access to an Australian-based doctor via our Travel GP service# while you're away overseas
Fair and efficient handling of all your claims
A global team of travel experts who put your safety and wellbeing first
If you'd like to speak to our team about these benefits and many more, call us on 1300 72 88 22.
Ready to hit the slopes?
Find out how affordable our travel insurance with Snow Sports Cover can be.
~ Cover will not exceed 12 months from onset of the illness, condition, or injury.
#TravelGP services do not form part of your travel insurance policy. It is offered to customers at Cover-More's cost and at our sole discretion. Your circumstances including age, location, medical condition or issue, proximity to appropriate medical care and medical history will be considered.