Helpful Advice for Your Winter Snow Holiday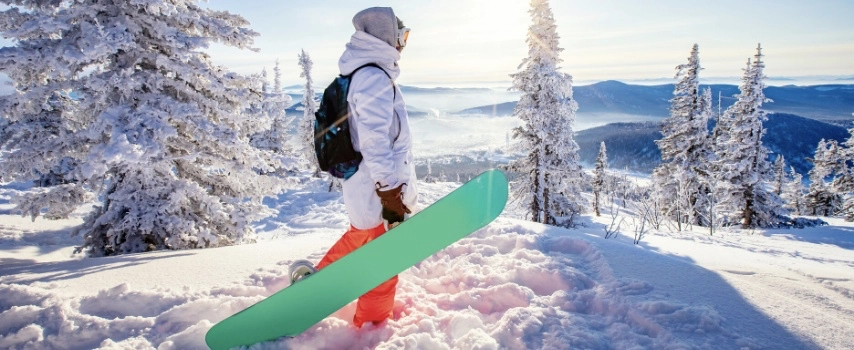 What you should know before you hit the slopes
Craving a winter getaway? Whether you're a first-time skier hitting the bunny slopes or a long-time boarder looking to perfect your switch ollie, we've collated a range of expert tips you should know – or brush up on – before you head to the snow fields.
From helpful tips for thriving on your first snow trip and staying healthy while on a skiing holiday, to what to add to your packing list and how to protect your gear, check out our best winter holiday tips below.
Need help deciding where to go for your ski holiday? Read our guide on the best ski destinations around the world.
Want to learn more about protecting your snow holiday? Check out our Snow Sports Cover and FAQs or get a travel insurance quote online.
Skip ahead to read:
7 helpful tips for first-time skiers and snowboarders
First time heading to the slopes? There are some obvious things probably know you'll need to take on your snow trip – like warm clothing – but there are some things you may not have considered.
Read on as Jen from  The Snow Chasers  provides seven helpful tips for first-time skiers and snowboarders to make your trip as fun as possible.
Tip #1: Layer up
It needs to be 0°C for the snow to start falling, so wherever you're going, it's going to be cold. That said, any country that is that cold is usually set up well to deal with cold temperate.
This means while it might be cold outside, most buildings will be heated to a lovely 20°C or so inside – and some may even have open fires. If you wear non-bulky layers underneath your snow jacket, you'll easily be able to take them on and off as you need.
Tip #2: Get a good pair of thermals
Thermals are base layers you wear under your clothes that help trap body heat to provide an insulated layer of protection from the cold. Good thermals will keep you warm when you need it and make sure you don't overheat when the temperature warms up.
Look for thermal tops and bottoms that are lightweight, non-bulky and breathable to help you stay warm and comfortable on and off the mountains.
Tip #3: Accessorise
In cold environments, you'll feel every chill on your skin and you'll find that your hands won't work properly if they get too cold. So, make sure you pack some gloves, a beanie or hat, and a scarf or neck warmer.
These accessories will make a massive difference in keeping you warm on the mountains, which will go a long way in helping you enjoy your first snow trip.
Tip #4: Wear grippy shoes and walk carefully
Snow takes many forms, including soft snow, sticky snow, powder snow, heavy snow, wet snow, and icy snow. Be conscious of this when you step out on the snow and assess what the snow is like on the ground that day. If it is icy, take small steps to prevent slipping over.
Water-resistant, thick boots are ideal for the snow. Their thickness will keep your feet warmer, while their height will prevent snow from falling into your shoe, and the water-resistant material will keep your feet dry.
Don't want to invest in a pair of snow boots? An alternative option is to purchase shoe covers, which are found in most snowy places. Also known as ice grips or crampons, they have metal spikes and will fit over the sole of any shoe.
Tip #5: Pack sun protection
Yes, it may be cold outside, but it's often sunny up on the mountains on a clear day. UV increases in intensity at higher altitudes as there is less atmosphere to absorb the radiation, so it's worth being sun smart. Plus, when the bright sun hits the white snow, it bounces back and reflects. So, slap on sunscreen before hit the slopes and reapply during the day if it's sunny out.
Tip #6: Keep hydrated
It may seem strange that you can get dehydrated in a cold environment, but it's not uncommon. In cold temperatures, our blood vessels constrict to conserve heat and draw warmth to our core. While this may help keep us warm, it also causes reduced thirst.
Make sure you're keeping yourself hydrated with plenty of water on the slope – even if you're not feeling thirsty – to prevent dehydration.
Tip #7: Moisturise
Winter air is extremely drying and can wreak havoc on your skin if you aren't used to it. Chapped lips are common for travellers on snow holidays, so keep some lip balm in your ski jacket pocket for use while you're on the mountain, and consider using a heavier face and body moisturiser than usual to help protect your skin from top-to-toe.
Want to protect your winter wonderland holiday with travel insurance? Get a Cover-More quote online now.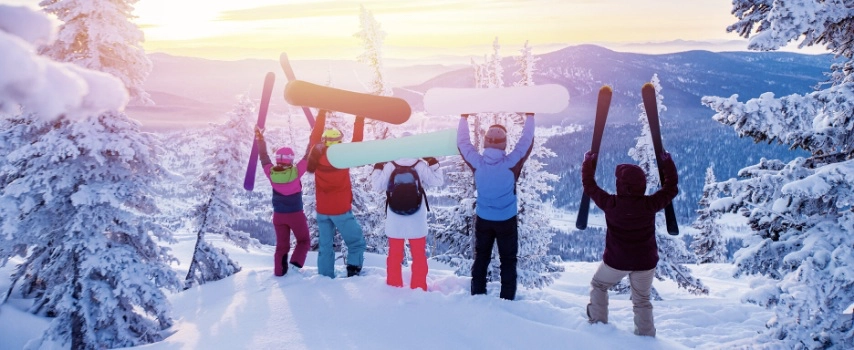 4 ways to stay healthy while skiing and snowboarding
If you love spending time in the snow, a winter sports holiday can be an incredible experience. However, there are a few things to consider to help you stay safe and healthy on your trip – and keep you out on the slopes longer.
Here, Dr Jane Read, a Sydney-based GP Registrar and Dietician, provides her insights and tips:
#1. Be wary of alpine sickness
Skiing promises spectacular views of gorgeous mountain backdrops. However, with these views come exposure to the alpine air, which contains lower levels of oxygen. For some, this may lead to alpine sickness and cause headaches, nausea, and vomiting.
Skiing can also cause muscle damage, especially if you're not used to constant exercise. While you're on your snow holidays, try to consume good sources of protein and carbohydrates to help repair damage – and get you back on the slopes quickly.
#2. Drink water even if you don't feel thirsty
It's vital to keep hydrated - even in cold climates – but this can be tricky as you often don't feel thirsty in the snow. The lower oxygen levels in alpine air can lead to rapid fluid losses through breathing, sweating and diuresis (an increase in urine production), so maintaining good hydration will also prevent muscle damage and keep you skiing or snowboarding on the slopes for longer.
#3. Limit your alcohol
Alcohol is a big part of the après ski culture. However, it should never be confused with rehydration. Alcohol is a diuretic and can lead to dehydration because of an accelerated loss of fluid from the body.
It also can impair your motor skills, leading to a reduced response rate and concentration. Both skills are vital to keep you skiing or snowboarding at your peak and to reduce your risk of injury.
#4. Fuel your body with the nutrient-rich food
Hours of skiing or snowboarding will use up a lot of energy, particularly if you're just learning. It's important to fuel your body prior to heading out to the ski fields – start your day with carbohydrate-filled meals such as porridge and toast, pancakes and fruit, or a banana smoothie.
It's also important to eat carbohydrate containing snacks and meals regularly through the day. Have some pocket snacks (low-fat muesli bars, dried fruit, sports gels) to maintain a steady intake of carbohydrates throughout the day. And don't forget to stop regularly to refuel!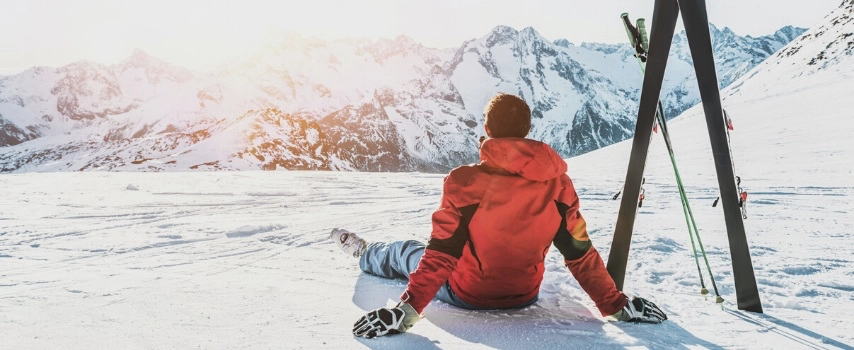 5 tips for protecting your ski and snowboarding equipment
When you're on a ski trip, your luggage often contains several items you wouldn't necessarily pack on a regular holiday – and this luggage can be very valuable.
To avoid damaging or losing your belongings – as well as preventing injuries – here are our top tips for protecting your snow gear:
Tip #1: Insure your luggage
At Cover-More, we understand how valuable your snow equipment can be. Our luggage and travel documents benefit includes cover for lost, stolen and damaged items, including items such as your own ski gear~, with the option to increase the limit for individual items for an additional premium if you wish.
Tip #2: Guard your belongings
Our Cover-More luggage cover is only provided for your equipment and luggage while they're in your possession. So, make sure you don't leave your items unattended, as keeping an eye on your stuff is the best way to prevent it from going missing.
Tip #3: Invest in the right equipment
Always make sure your snow equipment is the perfect fit for you. Any discomfort or ill-fitting items can contribute not only to equipment damage, but injuries, too.
Tip #4: Prepare yourself physically
Skiing and snowboarding can be a lot more exhausting than you might think. Make sure you take the time to warm up and stretch before hitting the fresh powder on the slopes to prevent any avoidable incidents.
Tip #5: Learn and practice
Take the time to learn from a qualified instructor and build up your skills slowly so you don't pick up any bad habits that might result in injury or damage to your gear.
Ready to travel to your winter wonderland?
Find out how our snow sports cover can help protect you on the slopes.
~There is no cover for sporting equipment whilst in use.
Material on this website is provided for informational purposes only. It is general information and discussion about medicine, health and related subjects may not apply to you as an individual and is not a substitute for your own doctor's medical care or advice. The words and other content provided on this website, and in any linked materials, are not intended and should not be construed as medical advice. If the reader or any other person has a medical concern, they should consult with an appropriately licensed physician or other health care worker. Nothing contained on the website is intended to establish a physician-patient relationship, to replace the services of a trained physician or health care professional, or otherwise to be a substitute for professional medical advice, diagnosis, or treatment. The views and opinions expressed on this website have no relation to those of any academic, hospital, practice, or other institution with which the authors are affiliated. They do not necessarily reflect the opinions of Cover-More Insurance Services Pty Ltd. Never disregard medical advice or delay seeking medical care because of something you have read on or accessed through this website. If you think you may have a medical emergency, call your doctor or emergency services immediately.