Best Places to Ski and Snowboard for Australian Travellers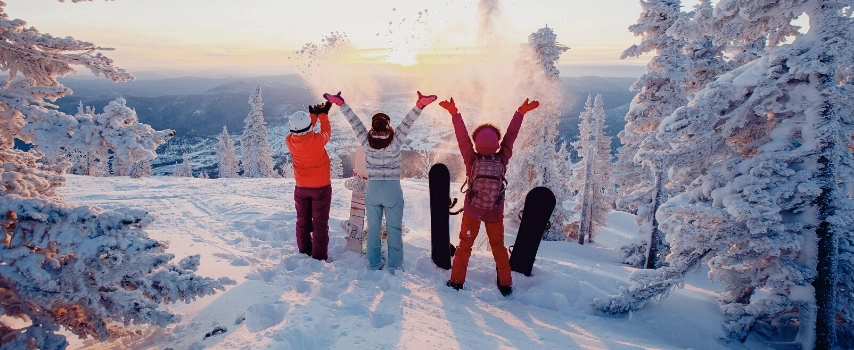 Find your perfect winter holiday destination in Australia and abroad
As Australians, it can be tricky choosing the best ski resort for a winter snow holiday – we're truly spoilt for choice.
From the amazing options nearby in both Australia and New Zealand to those resorts a little further afield in Japan, Canada and the USA, the best places to ski are endless – whether you're a beginner skier looking to practice turns on the bunny slopes or an advanced snowboarder booking a heli-skiing adventure.
To help you find a resort ideal for your trip, we've compiled a list of popular winter destinations and the best ski resorts – all you've got to do is choose!
Once you've locked in a destination, don't forget to consider protecting your winter holiday with travel insurance – you never know when you'll need it.
Skip ahead to read:
More than a tropical paradise, Australia has 10 ski locations spread across three states, which are open during the Australian ski season of July to September.
Despite the shorter season than resorts overseas, Australia has world-class facilities and fantastic ski schools, making it one of the best places to ski if you're a novice.
Looking for the best ski resort in Australia? Here are four of our favourites:
1. Perisher
Nestled in Kosciusko National Park lies the largest ski resort in the Southern Hemisphere. Combining four smaller ski resorts, Perisher is loved by seasoned pros, but it is also well suited to beginners thanks to its relatively low altitudes and a lack of peaks. Renowned for its superior ski schools, beginners can learn from world experts and take on intermediate slopes by week's end. It's also home to terrain parks and half pipes, allowing Perisher to offer some of the best snowboarding in Australia.
While Perisher does offer ski lodges on the slopes, many visitors choose to stay in nearby Jindabyne. This charming town in southern New South Wales is the perfect place to relax after a hard day's skiing.
2. Thredbo
On the other side of Jindabyne lies Perisher's little brother – and one of the best places to ski in Australia – Thredbo. Despite being a smaller resort, Thredbo has the highest ski lift in Australia. For this reason, it's no surprise it's the home to the longest ski run in the country.
Although Thredbo is less geared towards beginners, it still has a dedicated beginners' section and ski school.
What makes Thredbo truly remarkable, though, is its charming village vibe. Plus, with a fantastic après ski scene, you can also enjoy a drink at one of Thredbo's many bars when you're done on the slopes.
3. Falls Creek
If you want to stay in the midst of the mountains, then Falls Creek is for you. During July and August of each year, the village is entirely ski-in-ski-out. This means you can get up, put on your skis or grab your snowboard, and immediately explore the magical mountain surrounds.
With fewer crowds and gentle slopes, Falls Creek often attracts beginners and intermediate skiers. But, thanks to its wide-open ski fields, you can also try your luck with a cross-country ski adventure.
Falls Creek is hidden in the north-east corner of Victoria and is perfect for exploring during an Australia snow holiday.
4. Mt Buller
If mountain roads put you off a snow adventure, then Mt Buller – Australia's most accessible ski resort – might be for you. Only a three-hour drive from Melbourne, Mt Buller is popular with day trippers and holiday goers alike. Catering to all ski levels, anyone can take on the slopes while taking in the beautiful village views below.
Want to get away this winter but aren't keen on the snow? Here are the top 5 places to visit in Australia during the cooler months.
New Zealand is a world-class winter sports destination for beginners and experts alike. Lasting longer than the Australian ski season, slopes in NZ are open from early June to October.
While the country offers many ski fields, visitors usually base themselves in Queenstown or Wanaka. Given these locations are only an hour's drive away from each other, choosing which place to stay is a matter of personal preference.
Think of Queenstown as the bolder, more confident big brother to Wanaka, with the only night skiing available in the Southern Hemisphere. So, if you're looking for a quiet and more subdued après-ski scene, then Wanaka might be your best choice. Plus, both locations have buses to ski fields, rental gear, and great restaurants.
Here are three of the best ski resorts in New Zealand to help you decide on the location of your ski trip:
1. Cardrona
A favourite among locals, Cardrona is situated halfway between Queenstown and Wanaka. Perfect for beginners, Cardrona offers plenty of easy slopes – the main having a spectacular view of the Crown Range. For experienced skiers, the mountain has plenty of intermediate and advanced runs, too. If you're a snowboarder into flips and tricks, it also has a halfpipe of dreams. 
2. Coronet Peak, The Remarkables, and Mt Hutt
Coronet Peak, The Remarkables, and Mt Hutt are all part of the NZSki group, which means you can buy a pass that allows you to ski at all three mountains. Called the 3 Peak Pass, it's perfect for die-hard skiers and boarders with all-season access to all the destinations – making it one of the best places to ski in New Zealand.
Coronet Peak is an easy 25-minute drive from Queenstown, with buses running regularly from the centre of town. The resort boasts the biggest snowmaking system in the Southern Hemisphere, rollercoaster terrain, and great options for kids all the way from three months to 17 years of age. Coronet Peak is also loved for its night skiing on Wednesdays, Fridays and Saturdays, usually followed by a cosy pizza dinner and mulled wine on the heated deck.
The Remarkables is a 40-minute drive from Queenstown and is a destination for serious skiers and snowboarders. The resort features three north-facing, snow-filled bowls that have extensive runs and dedicated park facilities. The Remarkables also added 8,000m2 of learners' terrain in 2018, making it among the best ski resorts for novice riders, too.
Mt Hutt has been awarded New Zealand's best ski resort six years running at the World Ski Awards for its big mountain experience, legendary powder runs and Kiwi hospitality. Thirty minutes from the ski town of Methven in Canterbury, the mountain is home to the South Island's highest chair lift and largest lift-accessible terrain. With an annual four-metre snow fall, it also typically has one of the longest snow seasons in New Zealand.
3. Treble Cone
The largest ski resort on the South Island, Treble Cone is known for long runs, well-kept slopes, and exquisite views. As most ski runs are intermediate and above, it's not as suited to beginners. If you're a confident skier and love a good view, choose Treble Cone. It's much closer to Wanaka than Queenstown, so situating yourself in Wanaka is best.
Japan offers Australians the ultimate ski or snowboarding adventure with a cultural twist. With its ski season lasting from December to April, skiers and boarders of all levels can trade in the Australian heat for the world-famous Japanese snow.
Despite the language barrier, Japan's best ski resorts (think: Hakuba and Niseko) are perfect for international visitors. They offer high-quality ski schools, too, so novice skiers and boarders can learn from the best and take in breath-taking views. Plus, everyone who's been on the mountain all day can soak in a traditional 'Onsen' hot spring and enjoy the authentic Asian delicacies afterwards.
To help you plan your winter snow trip, here are the three best places to ski in Japan:
1. Niseko
Niseko is the most popular ski destination for Australians in Japan. With many English-speaking visitors each year, you'll find it easy to communicate with staff and have food options you're familiar with.
Beyond the food, visiting Niseko will allow you to experience the classic fluffy powder snow Japan is famous for. With a cluster of seven ski areas, you can take on the slopes with a single ski pass. Niseko receives more snowfall on average than any other ski resort in the world, so choosing to visit this area is bound to make for a enjoyable winter sports holiday.
2. Hakuba
With the largest foreign population in Japan, Hakuba is becoming the go-to ski destination for international visitors. The Hakuba Valley hosts nine of Japan's best ski resorts, suiting people of all ages and abilities.
The most popular ski resorts in the Hakuba Valley are Happo and Goryu. Both consist of wide, open runs, steep slopes, and beginner-friendly areas. And if spectating is more your style, Hakuba has a cafe accessible by chairlift. Here, customers can enjoy hot matcha tea and observe the pros from a comfortable setting.
3. Shiga Kogen
Shiga Kogen is located on the main island of Japan and is one of the best places to ski for avid skiers and snowboarders. With a collection of 21 ski resorts and 71 different tracks, Shiga Kogen has something for for everyone. Hidden among its many ski fields are several different villages – you can pop into a different one each day for a well-earnt sashimi or gyoza.
While you're in Japan, don't fall victim to a scam! Find out which common travel scams you need to watch out for while on your holiday.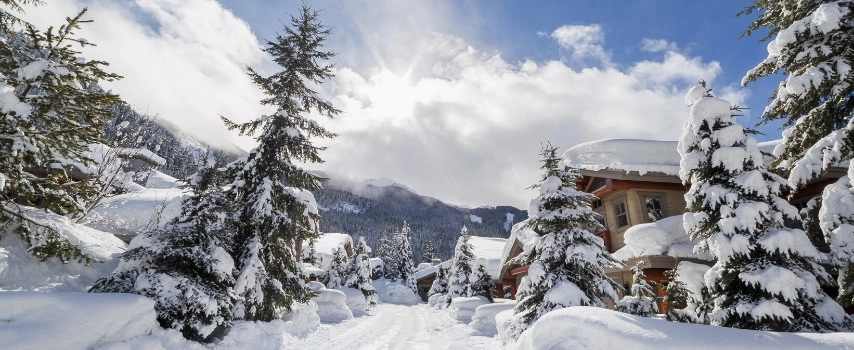 With world-class facilities, bountiful snow, and gorgeous mountains, it's easy to see why so many Australians flock to the best ski resorts in Canada. Lasting from September to May, the Canadian ski season is a perfect winter getaway during the hot Australian summer. It's also home to some of the friendliest people in the world, so you'll immediately feel welcomed by the Canadian hospitality.
There are ski resorts all over Canada, but here are the two of the best places to ski and snowboard:
1. Whistler
Home to the biggest ski resort in North America, Whistler has enough ski runs to suit all levels. If you're looking to go for an entire season – or get bored easily – this Canadian ski resort is large enough to keep you entertained and keep your runs feeling fresh. It also receives more visitors than any other ski resort worldwide, so it must be an essential for the bucket list!
2. Banff
Located in Alberta's Rocky Mountains, Banff has a more relaxed, village feel over Whistler, giving it a quintessential Canadian feel. It also has smaller crowds (but they're still big by our Australian standards), which gives it a slightly slower pace for travellers. Plus, if you're set on staying all season, there are also some great hikes to experience in Banff should you need a break from the snow.
Dreaming of a white Christmas? See what snowy destinations you should visit during the festive season.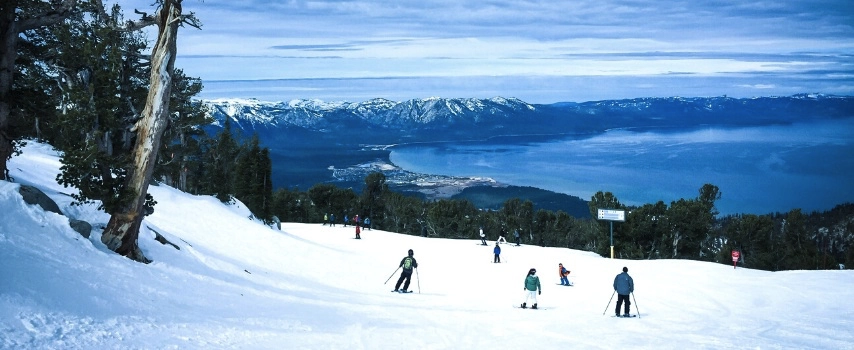 Much like all things in the United States of America, the ski scene is huge. With countless snow-covered destinations across the nation, there are endless choices for skiers and snowboarders. Plus, the USA ski season typically runs from November to early April – with some of the larger resorts even staying open as late as July – there's plenty of time to hit the slopes, too.
Despite the many great options to choose from, Australian travellers love to take on the slopes of Colorado and Lake Tahoe. Here are the best places to ski for Australians in the USA:
1. Colorado Ski Country
Colorado Ski Country has 24 resorts, ranging from recognisable luxury resorts like Aspen to smaller, city-owned ski areas. The high elevation of the region's mountains results in great snow quality and an enduring ski season year after year, which typically lasts from October to April.
The area's snow resorts are known for good guest service, family-friendly skiing, "mountain coasters", and entertainment for those who prefer to stay indoors, making it a great option for everyone.
The snowboarding scene is huge in Colorado, while experienced skiers can choose from bowl, powder cat, night, and heli-skiing. First-time skiers are also covered, with most resorts running a ski school.
Eight regional airports in Colorado Ski Country have direct connections with Los Angeles International Airport, and you can hire a car or take a shuttle to your resort of choice once you land. The Winter Park Express and the train to Denver International Airport (DEN) also provide rail access to the Winter Park Resort.
2. Lake Tahoe
Imagine skiing on slopes so impressive Olympians have competed there before you, all while gazing at the spectacular sight that is Lake Tahoe… As the largest alpine lake in North America, Lake Tahoe enormity also sees it crossing two states – California and Nevada.
North Lake Tahoe is home to 12 downhill ski mountains and six cross-country areas. The destination has a high concentration of ski resorts, each with varying terrain and amenities. Typically, the snow season can begin as early as November and extend through to April or even July depending on conditions.
Aside from skiing and snowboarding, activities available at Lake Tahoe include snowtubing, sledding, and even a starlit snowshoe tour with a professional astronomer. The impressive vistas of North Lake Tahoe also provide the perfect setting for some s'mores and hot cocoa, or cuisine featuring local produce.
The region runs an impressive events program, too, including Festival of Lights, Alpenglow Sports Mountain Festival, Winter Wonder Grass musical festival, and 'Olde World Christmas' at The Village at Squaw Valley featuring a seven-metre singing Christmas tree.
Tahoe South combines spectacular natural beauty with an array of outdoor recreation options, entertainment, casinos, and nightlife making it among the best places to ski in the USA. From November through April, opportunities for skiing, snowboarding, ice skating, and snowshoeing are plentiful.
The three main resorts are: Heavenly, where intermediate to expert skiers can try 97 trails; Sierra at Tahoe, which is perfect for beginner skiers; and Kirkwood, a secluded mountain setting for families and the more adventurous alike.
Reno/Tahoe International Airport offers excellent access to both North Lake Tahoe and Tahoe South with non-stop flights to 17 cities and seven international flights departing weekly.
Whether you're skiing or snowboarding in Australia or abroad, it's important to protect yourself and your trip from the unexpected.
Before you hit the mountains, don't forget to read:
Dreaming of a holiday to the best ski resorts?
Find out how we can protect your trip with snow sports cover.